Barry Jarnagin, MD, FACOG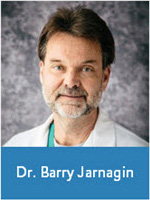 | | |
| --- | --- |
| Specialty: | Urogynecology, Robotic and Minimally Invasive Surgery |
| Years in Practice:: | 34 yrs. |
| Board Certification(s): | Obstetrics and Gynecology, Female Pelvic Health Medicine, Reconstructive Surgery |
| Medical School: | University of Tennessee Center for Health Sciences |
| Residency: | National Naval Medical Center Bethesda, Maryland |
| Office Location: | Center for Pelvic Health | 100 Covey Drive, Suite 205 | Franklin, TN 37067 |
| Website: | centerforpelvichealth.org |
| Incontinence Institute Location: | Franklin, TN |
Bio:
Specializing in urogynecology and minimally invasive surgery, Dr. Barry Jarnagin has extensive experience treating all types of pelvic floor disorders, from urinary and fecal incontinence and dysfunction to chronic pelvic pain. One of the leading urogynecologic surgeons in Tennessee, Dr. Jarnagin currently serves as medical director of the Center for Pelvic Health in Franklin, Tennessee.
After earning his medical degree from the University of Tennessee Center for Health Sciences, Dr. Jarnagin completed his residency in obstetrics and gynecology at the National Naval Medical Center in Bethesda, Maryland. He served as an active member of the military from 1984 to 1991 and served as the first Division Director of Urogynecology at the National Naval Medical Center. He has since held clinical, academic and board of director positions across Tennessee. Dr. Jarnagin is a member of the American College of Obstetrics and Gynecology, is board certified in Obstetrics and Gynecology as well as the newly offered Female Pelvic Medicine and Reconstructive Surgery sub-specialty. He is also a member of the American Urogynecology Society, the American Association of Gynecologic Laparoscopists, and the International Pelvic Pain Society. He is a sought-after speaker and has published more than a dozen medical journal articles on his research into topics such as incontinence, overactive bladder, and non-invasive surgical techniques.
An active participant in the very busy lives of his three children, Dr. Jarnagin has coached youth baseball and basketball, as well as AAU basketball. Along with his wife, a retired U.S. Navy nurse, Dr. Jarnagin enjoys spending time in nature with his family.
Melissa Kaufman, MD, PhD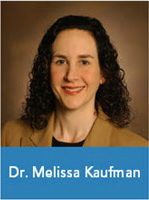 | | |
| --- | --- |
| Specialty: | Urology, Male Reconstruction and Female Pelvic Medicine and Reconstructive Surgery |
| Years in Practice:: | 16 yrs. |
| Board Certification(s): | Urology, Female Pelvic Medicine and Reconstructive Surgery |
| Medical School: | University of Arkansas for Medical Sciences |
| Residency: | Vanderbilt University School of Medicine, Nashville, Tennessee |
| Office Location: | Vanderbilt University Medical Center | 1301 Medical Center Drive, Suite 3823 | Nashville, TN 37212 |
| Incontinence Institute Location: | Franklin, TN |
Bio:
Dr. Melissa R. Kaufman is Professor, Patricia and Rodes Hart Endowed Chair of Urologic Surgery, and Chief of the Division of Reconstructive Urology and Pelvic Health at Vanderbilt Medical Center.   She received her B.A. from Washington University – St. Louis and Ph.D. in Microbial Genetics at the University of Tennessee.  Following postdoctoral research at Stanford and completion of medical school in her home state of Arkansas, Dr. Kaufman commenced her Urology residency at Vanderbilt in 2002.  She completed fellowship training in both Male Reconstruction and Female Pelvic Medicine and Reconstructive Surgery in 2009 at Vanderbilt.
Dr. Kaufman's practice focuses on female and male voiding dysfunction and incontinence, cancer survivorship, pelvic organ prolapse, neurourology, transitional care for congenital urologic conditions, urologic prosthetics, transgender surgery, as well as reconstructive surgery for urethral stricture, fistula, and trauma.  She currently serves as the global principal investigator for a pivotal Phase III clinical trial to pioneer the first application of autologous cell therapy for Urologic indications.  She has dedicated substantial effort on behalf of the AUA membership with service on the Practice Guidelines Committee, Core Curriculum Committee, and Medical Student Urological Curriculum Committee.  She currently serves as the Guideline panel Chair for Genitourinary Syndrome of Menopause. She was named the 2019 AUA Young Urologist of the Year.  She is additionally an Associate Editor for The Journal of Urology and past president of the Society of Women in Urology.   Dr. Kaufman was honored as the 2017 recipient of the Zimskind award from the Society for Urodynamics, Female Pelvic Medicine and Urogenital Reconstruction for outstanding contributions within 10 years of completion of training.